Back to focus index
CIAO Focus, April 2008:
Anti-Chinese Uprising in Tibet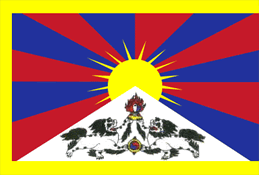 Clashes between demonstrating Bhuddist monks and police in Lhasa on March 10th erupted into violence and quickly spread to other parts of the country. It was the largest uprising since 1959 when Tibet's spiritual leader, the Dalai Lama, was forced to flee the country to India.
Rioters in Lhasa targeted shops and businesses owned by Han Chinese, an immigrant group that by some estimates comprises 40 percent of the city's population. Ethnic Tibetans have long argued that the influx of Chinese settlers threatens to dilute their national character. More recently though, the new Xining-Golmud-Lhasa railway line linking Lhasa to Beijing has facilitated the flow of immigrants from China.
Fearing an international boycott of the Olympic games in Beijing this summer, the Chinese authorities have been reluctant to use brute force to crush the demonstrations as they have with past uprisings. On June 20th the Olympic flame is scheduled to arrive in Lhasa where a big ceremony will be held.
This month CIAO examines the anti-Chinese uprising in Tibet.
From the CIAO Database:
The Tibet-China Conflict: History and Polemics
Sino-Tibetan Dialogue in the Post-Mao Era: Lessons and Prospects
Proposal for Demilitarisation of the Tibetan Plateau
In Focus: Reassessing Tibet Policy
Outside Sources: *
Human Rights Watch: China and Tibet
http://hrw.org/doc/?t=asia&c=china
China.org
http://www.china.org.cn/
Nobel Prize Internet Archive: Dalai Lama
http://nobelprizes.com/nobel/peace/1989a.html
The Government of Tibet in Exile
http://www.tibet.com/
* Outside links are not maintained. For broken outside links, CIAO recommends the Way Back Machine.