Back to focus index
CIAO Focus, August 2008:
Reducing the World's Carbon Footprint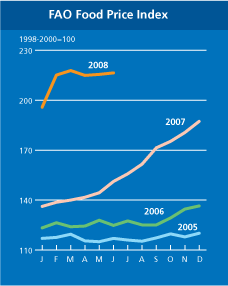 Escalating food-price inflation has impacted much of the world in 2008 and poses a threat to the governments of some of the poorest nations. A combination of factors is being blamed for the crisis. Mediocre wheat harvests in the United States and Europe, and drought in Australia curtailed supply at a time when global demand was on the rise. In addition, government-subsidized ethanol programs have sent the price of corn soaring in many countries and inflation spurred on by rising fuel costs has also played a role.
Not surprisingly, the big food exporting countries have benefited from the crisis while those that import the bulk of their staples are most vulnerable to mass starvation and civil unrest. Approximately 1 billion of the world's people survive on a dollar a day and they will be the hardest hit.
At least 14 countries have been shaken by food riots this year including Haiti where Prime Minister Jacques-Édouard Alexis was forced to step down last April after hungry mobs took to the streets in the capital. Cyclone ravaged Myanmar, where an estimated 1.5 million remain homeless and vast tracts of agricultural land lie in waste, has also been suffering.
This month CIAO examines the global food crisis.
From the CIAO Database:
Food Price Inflation: Explanation and Policy Implications
Thinking About the Future of Food: The Chatham House Food Supply Scenarios
The American Farmer and U.S. Food Aid
Outside Sources: *
World Food Programme
http://www.wfp.org/english/
Special Programme for Food Security (FAO)
http://www.fao.org/spfs/en/
Keeping World Food Security on the Agenda: Implications for the United Nations and the CGIAR (World Bank)
http://www.worldbank.org/html/cgiar/publications/issues/issues11.pdf
The cost of food: Facts and figures (BBC News)
http://news.bbc.co.uk/2/hi/7284196.stm
Food Security Audio Clips, Documents, and Press Releases
http://www.fas.usda.gov/icd/summit/pressdoc.html
* Outside links are not maintained. For broken outside links, CIAO recommends the Way Back Machine.