Back to focus index
CIAO Focus, December 2007:
Update on the Darfur Crisis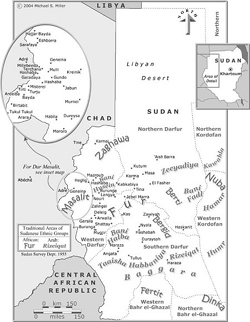 A 26,000 member joint UN-African Union peacekeeping force has been authorized to stabilize the Darfur region in Sudan after more than four years of convulsive violence. Deployment is scheduled to begin in early 2008, but there are concerns that lack of equipment and resistance by the Sudanese government could delay the mission.
The conflict, which pits government forces and their Arab militia allies on one side and a number of rebel groups on the other, has killed close to 200,000 civilians (mainly black Africans) and left 2.5 million homeless. The government in Khartoum denies that it is arming the Janjaweed (Arab) militias that are attacking the Darfur villages.
There are currently 7,000 African Union peace keeping troops in Darfur, but they have largely failed to protect the villagers from the marauding militias.
The new hybrid peacekeeping mission, which was authorized by the UN Security Council last July, will be comprised of three quarters African troops, with the rest made up of other nationalities.
This month CIAO examines the Darfur crisis anew.
From the CIAO Database:
Six Months Since 1706: The International Failure to Protect Darfur
Darfur and Beyond: What Is Needed to Prevent Mass Atrocities
Leveraging New International Action on Darfur
Outside Sources: *
Report of the International Commission of Inquiry on Darfur to the United Nations Secretary-General
http://www.un.org/News/dh/sudan/com_inq_darfur.pdf
Q&A: Sudan's Darfur conflict (BBC News)
http://news.bbc.co.uk/2/hi/africa/3496731.stm
Crisis in Darfur (International Crisis Group)
http://www.crisisgroup.org/home/index.cfm?id=3060
Crisis Guide: Darfur (Council on Foreign Relations)
http://www.cfr.org/publication/13129/
Documenting Atrocities in Darfur (U.S. Department of State)
http://www.state.gov/g/drl/rls/36028.htm
* Outside links are not maintained. For broken outside links, CIAO recommends the Way Back Machine.