Back to focus index
CIAO Focus, March 2007:
Somalia on the Brink of Chaos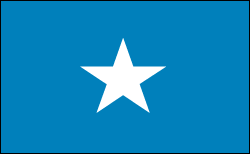 A growing insurgency based in the capital city of Mogadishu has been menacing both Somalia's transitional government, which is backed by Ethiopian troops, and African Union peacekeepers recently sent in to relieve the Ethiopians and pacify the country.
Somalia's central government has largely been defunct since President Siad Barre was overthrown in 1991 by rival clans. In 2000, a transitional government was established but did not succeed in reconciling the warring factions.
Then in 2006 Islamic militants took control of Mogadishu and won popular support for stabilizing the capital for the first time in more than a decade. Late last year however, the interim government was able to defeat the Islamists with the help of Ethiopian troops.
The first contingent of African Union peacekeepers arrived from Uganda only to be attacked at the Mogadishu airport in a scene chillingly reminiscent of the assaults launched against United Nations peacekeeping forces that were dispatched to Somalia in the early 1990s. Many of the insurgents are remnants of the ousted Islamic junta.
This month CIAO examines Somalia on the brink of chaos.
From the CIAO Database:
Somalia: The Tough Part Is Ahead
Can the Somalia Crisis Be Contained?
Somaliland: Time for African Union Leadership
Outside Sources:
Map of Somalia (United Nations)
http://www.un.org/Depts/Cartographic/map/profile/somalia.pdf
Country Profile: Somalia (BBC News)
http://news.bbc.co.uk/2/hi/africa/country_profiles/1072592.stm
African Studies: Somalia and Somaliland (Columbia University)
http://www.columbia.edu/cu/lweb/indiv/africa/cuvl/Somalia.html
African Studies Center: Somalia Page (University of Pennsylvania)
http://www.africa.upenn.edu/Country_Specific/Somalia.html
Somalia Country Study (University of Oxford)
http://www.compas.ox.ac.uk/publications/papers/Somalia%2005015.pdf
Past CIAO foci can be found in the archive.
* Outside links are not maintained. For broken outside links, CIAO recommends the Way Back Machine.