Back to focus index
CIAO Focus, July 2006: Zimbabwe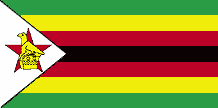 Zimbabwe, once hailed as an African success story, is on the brink of total economic collapse. The country suffers from severe food and fuel shortages, unemployment that has reached 85 percent, and runaway inflation. Malnourishment and AIDS have claimed hundreds of thousands of lives in recent years. Many of the current ills have been blamed on the government's disastrous land redistribution campaign, which began in 2000 when all white farmers were forcibly disenfranchised ostensibly to benefit landless black Zimbabweans. As a result of the scheme production levels plummeted, all but crippling the country's agriculture-based economy.
The crisis was further exacerbated in 2005 when the government launched Operation Murambatsvina (Restore Order) in an attempt to clear urban slums, a move that has drawn strong international condemnation. According to UN estimates, the razing of the slums left close to 700,000 people without homes or jobs.
Zimbabwe's president, Robert Mugabe, in power now for 26 years, maintains that Operation Murambatsvina was an effort to facilitate development and to impose law and order in these areas. His detractors, however, claim the real motive behind the campaign was to punish opposition supporters who dwelled in the slums.
This month CIAO examines Zimbabwe.
From the CIAO Database:
Zimbabwe's Continuing Self Destruction
Zimbabwe's Operation Murambatsvina: The Tipping Point?
Zimbabwe's Impending Elections: What Other Countries Can Do, and Why
Post-Election Zimbabwe: What Next?
Outside Links*:
Afrobarometer
http://www.afrobarometer.org/
University of Pennsylvania African Studies Center (Zimbabwe Page)
http://www.africa.upenn.edu/Country_Specific/Zimbabwe.html
Zimbabwe Government Online
http://www.gta.gov.zw/
Human Rights Watch: Zimbabwe
http://hrw.org/doc/?t=africa&c=zimbab
Zimbabwe Interim Mission Report (UNDP)
http://www.undp.org/rba/pubs/landreform.pdf
* Outside links are not maintained. For broken outside links, CIAO recommends the Way Back Machine.