Back to focus index
CIAO Focus, May 2006: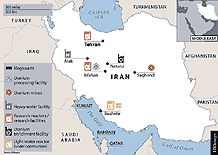 Tensions between Iran and the United States continue to escalate over the former's controversial nuclear activities. On April 28, the International Atomic Energy Agency cited Iran for noncompliance with a UN deadline to halt its uranium enrichment program. The permanent members of the Security Council are divided over what to do next. Britain, France and the U.S. are calling for punitive resolutions against Iran but China and Russia remain opposed to any sanctions. Iranian president Mahmoud Ahmadinejad has already vowed to ignore any resolution that threatens his country's nuclear program.
Iran claims its enrichment program is geared exclusively toward generating electricity and does not violate the Treaty on the Non-Proliferation of Nuclear Weapons, to which it is a signatory. The U.S., however, accuses Iran of trying to build nuclear weapons, which, if true, could potentially alter the balance of power in the region.
Iran had previously suspended uranium enrichment and was working with Britain, France, and Germany on an agreement that would offer economic incentives in exchange for the permanent dismantlement of the program. However, Iran recently began enriching uranium again.
American officials say they are attempting to defuse the current crisis through diplomatic channels, but they have not ruled out the possibility of military action. Iran's leaders have warned that should the U.S. resort to force, they would retaliate against U.S. targets around the world and attack Israel.
From the CIAO Database:
The Nearest and Dearest Enemy: Iran after the Iraq War
The U.S. and Iran: Democracy, Terrorism, and Nuclear Weapons
U.S. Foreign Policy and the Future of Democracy in Iran
Outside Links*:
MERIP: Iran's Nuclear Posture and the Scars of War
http://www.merip.org/mero/mero011805.html
International Atomic Energy Agency: Iran
http://www.iaea.org/NewsCenter/Focus/IaeaIran/index.shtml
Global Policy Forum: UN Sanctions Against Iran?
http://www.globalpolicy.org/security/sanction/indxiran.htm
U.S. Department of State: Briefing on the Iran Nuclear Issue
http://www.state.gov/p/us/rm/2006/64945.htm
* Outside links are not maintained. For broken outside links, CIAO recommends the Way Back Machine.